He is an experienced chef who has worked in prestigious Michelin-starred restaurants and five-star hotel restaurants around the world, from Spain through Dubai, to China. Young chef Alberto Rodriguez, who had built a respectable name for himself in the culinary industry, spent a few days in Dubrovnik, and for a good reason. Besides being the official chef of the Athletic Bilbao football club, Rodriguez is a professor of culinary art at the Basque Culinary Center, a technical partner of the Dubrovnik School of Tourism and Hospitality with which they work on the implementation of the project of establishing a Regional Center of Competence in Tourism and Hospitality in Dubrovnik. As a representative of one of the most famous and innovative culinary centers in the world, he arrived to our city with the intention of making the first step in the process of developing the Dubrovnik Competence Center, a program that aims to improve the knowledge and expertise of students and teachers in tourism and hospitality.
It's his first time in Dubrovnik and he was delighted with the beauty and the history of the city. He noticed that gastronomy is very important to our people and described their hospitality as incredible. He found out exactly how important certain ingredients and foods are for the people from this area, by visiting an oyster farm in Ston. That is exactly what connects our cuisine with the Basque.
"Like you, we very much pay attention to every product – it is crucial where a good product can be found, where it grows… People here understand that and think meticulously about food. We also like to enjoy food in the company of family and friends, just like you ", Rodriguez says. According to him, Basque cuisine is focused on tradition and people.
"Gastronomy is a huge part of the culture and the people. Friends and family always talk about food, even though they may not be professionals", Rodriguez tells us. The inhabitants of the Basque Country are very attached to the sea, so all of their famous dishes are in some way related to fish and seafood. "I must also emphasize the Basque agriculture. The quality of meat is very important to us as well. Also, grilling food in the Basque Country is a tradition", adds Rodriguez and further states that the care of food is important not only in the Basque Country, but throughout Spain. "In each of the many Spanish communities and cities, there is a special tradition related to cuisine, food, habits, and I can say it is a great cultural richness ", he said.
The city of San Sebastián, home to the Basque Culinary Center, is known for its many Michelin-starred restaurants. However, he also points out that the tradition of pinchos is rooted in this city! It is a small snack, for one person, which is usually eaten in bars and is especially popular in the Basque Country. Michelin restaurants and pinchos bars together form the Basque gastronomic offer.
"We have a lot of pinchos bars in San Sebastián that offer a rich and quality product. It is normal to go for a drink in the evening, wine and pincho in the historical part of the city ", says Rodriguez.
He has trained for thirteen years in restaurants all around the world where he had the opportunity to design and develop many new concepts and menus. Food, he emphasizes, can say a lot about every country and city.
"It's the link between people ", the young chef tells us and adds he knew what he wanted to be since childhood.
"I've always loved to cook, as well as all of my family members. My first contact with gastronomy was right in my home. I always watched my grandparents cooking and that way I was constantly learning, and ultimately decided to become a chef! Also, I saw it as an opportunity to travel the world, meet different cultures and understand how people around the world view gastronomy and how important food is to their community. I never wanted to focus on just one thing, I wanted to learn from different experts ", Rodriguez points out. He could not name just one chef who influenced his work and career as he learned something new and different from each top chef and applied it in his own professional engagement. The young chef claims it takes a lot of time to become an expert in any profession.
"If you want to become a chef, you have to love what you do. It's the only way to enjoy work. Attitude and desire to learn are important in the whole process. If you have these two, you will learn all the skills and capabilities of this job. Every young person should make an effort. It takes a lot of reading and being really interested for someone to work in the kitchen ", Rodriguez said. Teachers and mentors are in charge of creating and strengthening students' interest.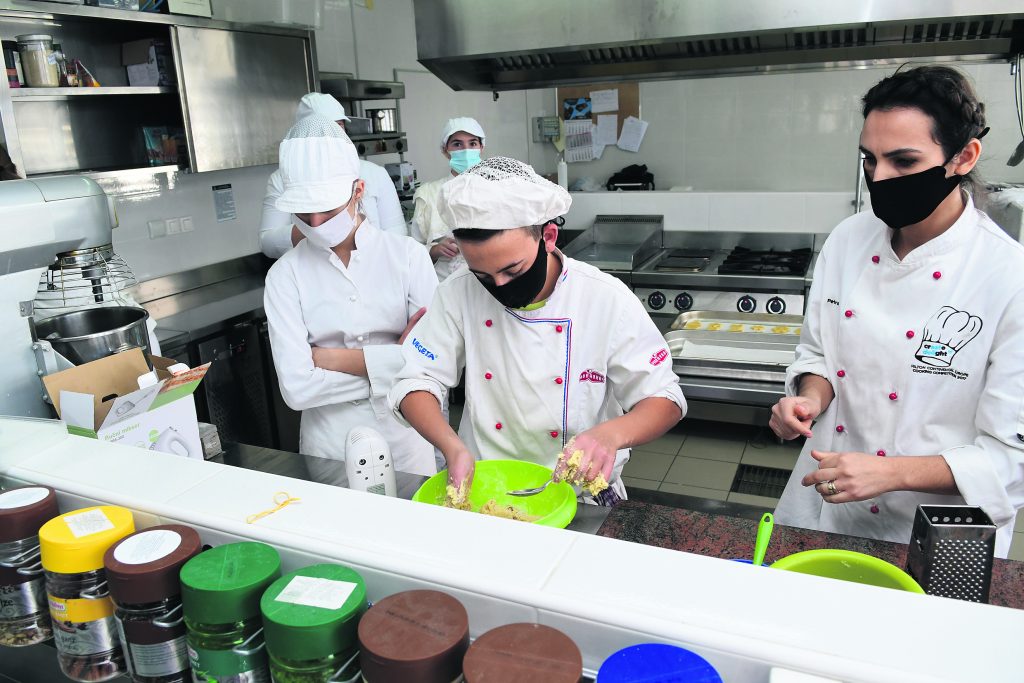 "They need to be taught how to do this job so they can make people happy. People are connected by food! Today, being a chef means not only knowing how to cook, but also knowing the culture, history, economy, and the way of serving. It all comes together in a full circle. All things considered, one can become a professional and an expert in this way. And when that goal is achieved, one must never stop learning. It is crucial to always try, to always hunger for knowledge and have the right attitude ", says Rodriguez.
During the making of the menu, he is very careful with the groceries, and pays special attention to the fact he needs to create a special experience for each guest. He doesn't have his own signature dish, but he does point out he likes to work with rice the most.
"It's a food that looks simple, but you can make a variety of dishes with it ", he tells us. When he cooks at his own home, he always likes to try something new.
"I like to go to the market and choose fresh food and try to cook something new and interesting. I can't point out any specific dish I make at home ", he said. By the way, his biggest critic is his wife. "She likes to criticize my dishes, but the critics are always good (laughs)", Rodriguez says.
During the lockdown introduced due to the coronavirus, he considered working at the Basque Culinary Center to be a challenge, but it was also an opportunity for a new step. They continued, he points out, with digitalization and very quickly 'switched' to work on online platforms. He sees the coronavirus as something that has changed people's lives, but also has given new opportunities for work. He believes that we should try to look positively at the whole situation and use this period to start something new, such as the project of the Regional Competence Center in Dubrovnik. Because of it, he will come to our city more often to work on creating the program and hopes that the next time he will be able to visit some of our restaurants and try their rich offer.
Journalist: Maria Prkut
Photo: Zvonimir Pandža
DuList