International Late Summer Music Festival Dubrovnik was launched in 2013 to enrich Dubrovnik's cultural program in late summer and maintain the musical tradition. The Festival has gained the audience's loyalty from the very beginning, which participates in concerts held in front of the Rector's Palace or in its atrium. The concerts are enjoyed by many passers-by, visitors, and locals who are attracted by the exciting and extensive music program.
The Festival includes symphony and chamber concerts, recitals, premieres, and collaborations with famous soloists and conductors, showing virtuosity and skills on the most captivating stage. In addition, they play well-known pieces by foreign and Croatian composers, thus promoting Croatian musical tradition and reputation. The Festival's music director is Marc Tardue, the chief conductor of the DSO.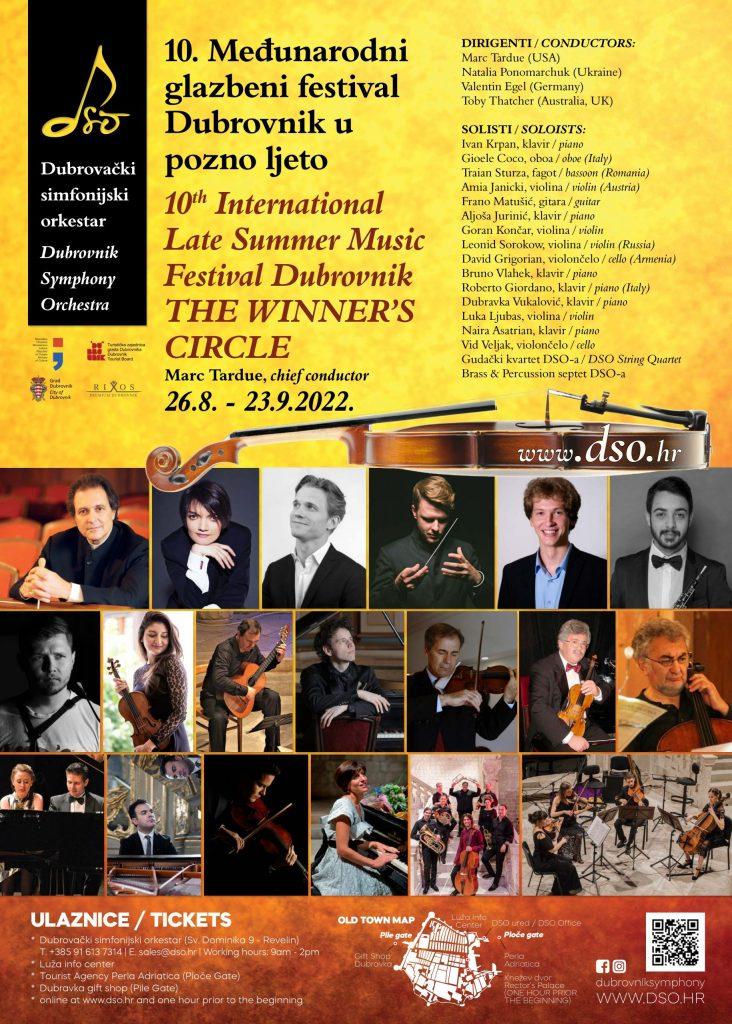 Many prominent local and foreign musicians performed in Late Summer, and some of them are: Viktor Tretyakov, Natalia Likhopoi, James Dick, Janja Vuletić, Dubravka Tomšič, Diego Tosi, Giovanni Angeleri, Aleksey Semenenko, Severin von Eckardstein, Dmitry Sinkovsky, Martina Filjak, Daniel Froschauer, Dubravka Musovic Separovic, Marija Grazio, Naira Asatrian, Maroje Brcic, Marin Maras, Srdjan Bulat, Katja Markotic, Nikolina Pinko, Martina Gojceta Silic, Marko Fortunato, Marko Spehar, Matija Dedic, Darko Jurkovic, Dan Zhu, Iskandar Widjaja.
The DSO also hosts renowned conductors: Christophe Campestrini, Thomas Rosner, Stefan Sanderling, Nicholas Milton, Renchang Fu, Charles Olivieri-Munroe, Christophe Koenig, Darrell Ang, TaeJung Lee, Noorman Widjaja. In addition, DSO establishes collaborations with other organizations, such as the Zagreb Philharmonic Chamber Studio, the Pro Musica Academic Choir, the Laus Academy, the Plazarius Ensemble, and the More Love Ensemble.