Since the beginning of the year, the Dubrovnik Tourist Board has been working intensively on the promotion of Dubrovnik and ensuring the visibility of the destination in various markets. In addition to our traditional markets, we turned to others, intensively monitoring the situation in different countries in terms of the pandemic and the situation with flights. Dubrovnik is a destination highly dependent of international air traffic, which in this situation of a global pandemic makes us much more vulnerable than car destinations. Despite the fact that last year, and to some extent this year, we struggled with the lack of tourist traffic and insufficient number of guests, we still remain consistent and oriented towards the development of Dubrovnik as a destination of sustainable tourism. We will certainly continue to develop Dubrovnik as a year round destination and we will focus on various segments, such as nautical tourism, digital nomads, weddings, film tourism, etc. – Ana Hrnić, director of the Dubrovnik Tourist Board, told us in her exclusive interview for Just Dubrovnik. We discussed those great efforts Dubrovnik Tourist Board has made to get the tourist season back on its feet. At the same time, Dubrovnik is turning to some new ways to attract tourists to the destination.
What can tourists expect when they decide to visit Dubrovnik in the season and even in post-season? What has Dubrovnik to offer?
Apart from everything that is well known that Dubrovnik has to offer, from the rich cultural and historical heritage, natural beauties, pleasant climate, top gastronomy, quality accommodation, in any case it is important to put emphasis on safety. Not just in the current context of the pandemic, but in every other sense. Furthermore, we need to work further on developing interesting events throughout the season, and especially in the months outside the main tourist season. Dubrovnik is a very famous MICE destination. This segment has been significantly affected by the pandemic, but hopefully it will return very soon. The construction of a new sports hall complex will certainly have a significant impact on further strengthening and growth of this segment. The future development of recreational sports infrastructure is also an excellent opportunity to extend the season and develop sports tourism as well.
In light of the corona virus pandemic, the numbers are passé. The overnight stays numbers and arrivals are not the most important thing right now. Quality takes precedence over quantity, and Dubrovnik as such does not need an initial promotion. In order to catch up with world markets – or even set trends, can we finally point out that the corona virus pandemic helped us to 'reposition' the city as one of the most desirable world destinations?
We should focus primarily on quality and sustainability. I see Dubrovnik in the future as a destination of sustainable tourism, and as a destination of top-quality offer and excellence in all segments. I think it is very important to achieve a quality balance between satisfied visitors and satisfied citizens. There is no point in accumulating millions of overnights and arrivals, if our citizens are dissatisfied and if this affects negatively on the quality of our lives. 2020 definitely gave us the opportunity for a certain reset, and I believe we are headed in a good direction. In the years ahead, I think that nothing will look exactly the same as before and that we will be able to completely change the direction of tourism development towards sustainability. I believe that we will draw some lessons from all that has happened and create clear visions for the future. We are convinced that the highest quality segments of the offer are the most resilient during crises and we need to work on raising our quality in all segments. Above all, Dubrovnik tourism should be tourism that respects the citizens of this city, which is sustainable and whose success is not measured solely by the number of overnights. The emphasis in the future must be placed on raising quality in all segments, in order to ultimately use this crisis to reposition Dubrovnik as a destination of excellent and sustainable tourism.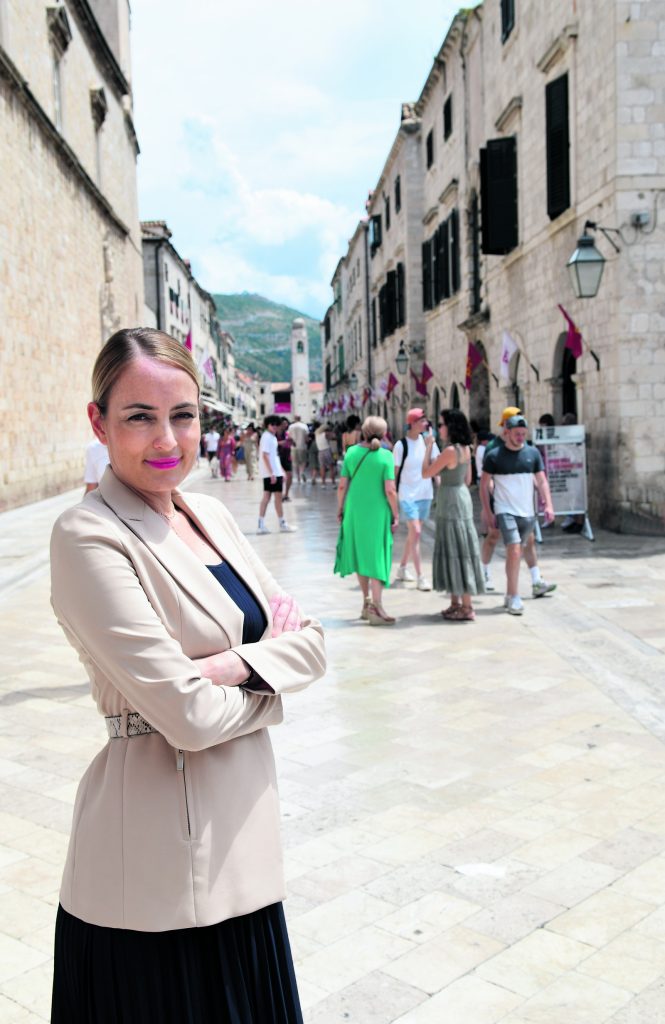 Can we talk about some new markets – where has the Dubrovnik Tourist Board invested more effort and financial resources in light of the new situation? How does the Tourist Board communicate with foreign markets today?
Throughout 2020 and 2021, we have focused our promotional activities on various markets. In addition to our two most represented markets – the UK and the USA, we were also very active in the Benelux market, France, Germany, Russia, Ukraine, Israel, Poland, Slovenia and many others. We not only carried out promotional activities in the markets of these regions, but also in our domestic market, which was in the first place last year. We conduct various marketing campaigns and many presentations in online form and regularly communicate with our offices around the world so that partners in the markets are aware of the situation and receive all relevant information from the destination. There is a large number of foreign journalists, TV crews and influencers staying in our city. It is also important to mention marketing activities we carry out with many airlines, which are of strategic importance to us.
Can you already feel the feedback from all the money invested in promotion? As the director of the Tourist Board, you have given several important interviews for the world media – what is the response?
We believe that all the promotional activities we carried out in the US market contributed to the establishment of direct flights between Dubrovnik and the US. This is really a great success of exceptional importance, not only for Dubrovnik but for the whole of Croatia. All activities we carry out result in the exceptional visibility of Dubrovnik in our emitting markets. All foreign media which visit Dubrovnik transmit beautiful pictures and news about Dubrovnik to a million-strong audience, and that is a really great value.
On social networks, celebrities from all over the world recall their days spent in Dubrovnik. The city is the world stage. For example, innovator and entrepreneur Mate Rimac choose Dubrovnik to present his new business venture. How much do such individual stories contribute to the overall promotion of the City?
Many celebrities visit Dubrovnik and these stories are very important advertisements of great value for us. The fact that Mate Rimac choose Dubrovnik to present his new business plan is amazing, and we were all happy and proud to see this fantastic event take place in Dubrovnik. Such a fantastic Croatian success story like Rimac goes perfectly with the Dubrovnik brand, so I think it's one great blend. The promotion we have reached with this event is priceless.
Finally, how will the season – and the entire year 2021 – end? Can we talk about a certain assessment of the situation if we look at what happened in the first few months of this year? Will the situation be reflected in the second half of 2021?
We are still living in times of great uncertainty, so it's hard to say at this point what kind of season awaits us until the end. We can be satisfied with the current situation and announcements for the next period. However, it is the epidemiological situation that dictates the further course of the tourist season. If everything stays as stable as it is now, I believe we can have a successful August, September and October. We can all contribute to a favorable epidemiological situation by adhering to epidemiological measures and vaccination. A favorable epidemiological situation and remaining on the green list will be crucial in achieving a successful tourist season.