Crisis, pandemic, 'new normal' – all these terms resonate in the media space, in public space, in everyday life. How Dubrovnik faces the challenges of today is best known to those who lead it. We talked about what awaits us with the Mayor of Dubrovnik, Mr. Mato Franković.
As we approach the high peak of the tourist season that takes place in the light of a global pandemic, Croatia is ranked very high as one of the safest destinations in the world. Popular destinations, especially Dubrovnik, have made additional efforts to strengthen the already great and carefully built image on the world tourism market map – headlines from the most popular and powerful world media, such as 'Worth the Quarantine' or the classic 'A Must See' have bore fruit and today Dubrovnik is again at the very top. What are the next steps?
Even last summer, when we were dealing with crises like we haven't faced since the Homeland war, and as we were facing tourist season like never before, there was a wide media coverage on Dubrovnik. We were projecting this true image of destination that is safe and welcoming as ever. In the midst of this promotion was a city that had rich history dealing with pandemic in the past. Because, so far back as 1377, the former Republic implemented first quarantine rules to contain the spread of plague, and simultaneously allow the maritime and overland trade to run unobstructed. For it's conceptual originality it is considered to be the first quarantine regulation in the world by many scientists. Combining that history with a sight of Dubrovnik streets without usual midseason crowds it definitely rang positively in the media. This is is still very much the same. Like I said in an interview recently, Dubrovnik is always beautiful, but rarely this beautiful. In today terms, travel is a necessity and Dubrovnik offers all – from unique heritage and history on every corner to mild climate, quality accommodation, rich cuisine and, most importantly, safety. If we can, as a society, show responsibility and keep the low number of new cases, we can have a very good season. So, to answer your question, the next step and one after it is vaccination.
Dubrovnik has moved away from its standard image of the destination in the light of the so called 'new normal', turning to novelties on the world tourist scene. Digital nomads, social networks, filming destination… Is there more room for growth?
Of course, there is. The Dubrovnik digital nomad-in-residence program we launched and hosted this past spring with our partners, as a world's first event of that sort, and the conference that took place in October 2020, are just the first steps for this growing market. This is an excellent opportunity for Dubrovnik and a part of City's post COVID strategic direction in destination management. We have a very good Internet Infrastructure with a significant investment from Croatia's national telecom in progress. Combining that with beautiful surroundings, historical richness, food, safety, healthcare, and accommodation facilities and you will get something quite unique. Smart City technologies are a significant part of City's economy and development. Smart Parking Dubrovnik project with more than 2000 sensors employing the newest technology is alone worth mentioning. Also, as a part of the integrated development program Dubrovnik 2030 and the project Respect the City a park n' ride will be constructed in the Pobrežje area of town which brings us one step closer to the planned restriction of car access to the boundaries of the contact zone of the UNESCO's historic core. Anyway, there are vast opportunities in this growing sector, and we believe Smart City is the best tool to to solve existing challenges and create tangible solutions. And what we can say about film? Last fall, when the whole world dealt with pandemic and health crises, we had not one, but three international productions developing in the city. We have our own directors and film editors that are currently promoting internationally recognized projects. This is the wave of creativity we must support. Entertainment industry is speaking universal language and TV and film in particular are corresponding with people all over the world. Therefore, it is crucial that we take a next step in that direction and lay the groundwork for building a film studio. We have chosen location for it and next step is to include it in master zoning plan.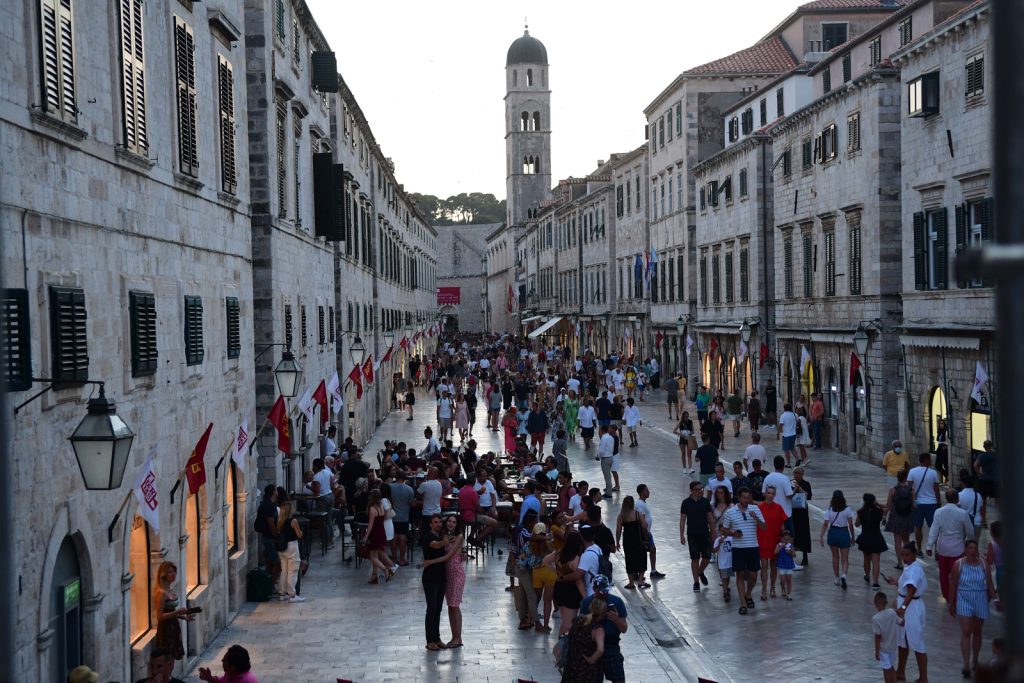 How much has been invested in the financial construction of positioning the city on the world tourism map in light of the so called 'new normal'? How much EU funds have been withdrawn for the tourist promotion? How much has been invested in cultural or sports promotion… Marvellous events, such as DU Motion, worldwide known runners' event, or Dubrovnik Summer Festival, the oldest and richest cultural festival in Croatia, are presented in a completely new light, all together to rebuild – in a way – the image of the city. What percentage of the city's total budget can we talk about when we talk about rebuilding the destination image?
Actually, everything we did, or we are doing since 2017. is done with that thought in focus – to rebuild the destination image, to shift from uncontrolled, very harmful, and hazardous way of doing things to more sustainable practices. The conservation of cultural heritage, the quality of citizens' daily lives and ensuring the best possible experience of Dubrovnik as a destination for its visitors – all those are motives for this shift in destination management. Of course, the minute we were about to enjoy the full benefits of all our past activities in this field the pandemic struck, and we found ourselves once again in very unflattering situation having to deal with no tourists at all. We are still fully determined to the causes we laid before us in 2017. Regarding the EU funds, it is well documented that City withdrew more than one million Kunas in first 3 and a half years and with 3 more million Kunas we plan to withdraw until 2024. Most of these funds will be invested in new standard for municipal services, public utilities, and infrastructure, that eluded us for too many years. Dubrovnik is a home to 40+ thousand inhabitants and that number doubles during tourist season, so ensuring new level of communal services, whether we are talking about water supply and drainage, public transport, public roads and transport or new multifunctional concert/sports hall, is of most importance. As this City's administration is prioritizing EU funding, our institutions are also moving in that direction, so Du Motion and Dubrovnik Summer Festival are currently involved in several EU projects. These events are doing a lot in terms of promotion of Dubrovnik as cultural and recreational oasis.
Are there any 'victims' of the pandemic – cancelled or delayed programs? Are there any plans for the autumn and winter season (Dubrovnik Winter Festival etc.) and are there any new trends that the city will follow in the tourist season period ahead, to succeed in realizing the 'Tourism 365' offer?
So far so good, I would say. We managed to put together a new festival season in very challenging times. The programs of Dubrovnik Summer Festival are good and varied as always and, most importantly, the safety issue is of most importance. We are doing all we can, even now, to prepare for Dubrovnik winter Festival but it is far too early to tell how pandemic will evolve. Therefore, vaccination and responsible behaviour are still the only keys to success. If we can keep virus down than, I am sure, we will have airline connections during off season and tourists will come.
COVID certificates, COVID passports, vaccinations… are closely related to the consumption of content that the city offers. Examples of this are the programs of the Dubrovnik Summer Festival, as we speak about open stage / ambience theatre. What about other programs? What solutions will Dubrovnik offer?
Covid passports can and should be used as tickets for cultural and sports events, but it is not mandatory, at least not yet. All organizers of concerts, festivals, performances, and sporting events can choose to organize events that can only be attended by those who have been vaccinated with two doses at least 14 days ago, those who have had Covid in the last six months, and people who have a negative test no older than 48 hours. Events can be organized without it, but then they must apply all the rigorous measures: mandatory masks, distancing, one guest per four square meters, etc., due to the decision of National Civil Protection Headquarters. Vaccination is the most effective and free way to stay healthy, actually in this moment it is the only way. We must understand that COVID passports are our future if we want normal life back.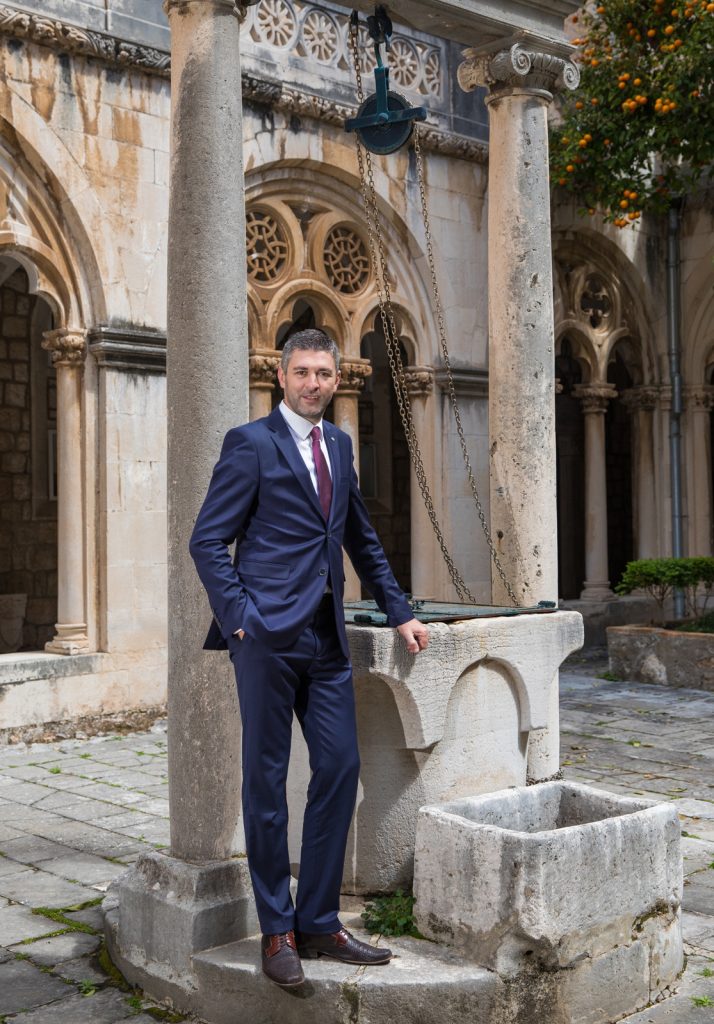 'Safe stay in Croatia' is a short and very accurate description of Croatia as the destination. Dubrovnik, and the Dubrovnik Neretva County as well, control the situation throughout the pandemic and today we have a low number of coronavirus patients, justifying the slogan mentioned above. In order to keep that image, what are next necessary steps for Dubrovnik to maintain that level of quality?
Due to its good epidemiological situation, Croatia was recognized as a safe destination last year, and safety continued to be the focus in 2021. In addition to the already known World Travel & Tourism Council (WTTC) Safe Travels label on the market, a national label called Safe stay in Croatia has been designed as an important element in establishing Croatia as a safe and desirable destination. It is also intended as an incentive for all stakeholders in the travel chain – from gas stations to airports and ferries, as well as hotels, marinas, private apartments, museums, and other attractions, to continue adhering to epidemiological measures. During preparations for this tourist year, while unfortunately the pandemic continues, our main priorities were the safety and health of our local citizens and our guests. The Ministry of Tourism and Sports and the Safe Stay in Croatia project are supported by leading tourist and professional associations and with prescribed protocols they covered more than 200,000 hospitality and service providers in tourism. It is important to ensure that the national label is available to all stakeholders in tourism and the travel chain, and that this has been achieved.
Frequent flights and once again strong link with the USA, an increased influx of Croatian tourists and tourist from the region… Can we talk about some potential new markets, tourists that didn't choose Dubrovnik as a place to visit until today's circumstances? Have additional efforts been made towards these markets to present Dubrovnik?
American market is extremely important for us, and this new connection is great success and would be a great success even if we were not in a pandemic. I would say that we learned that advertising on the domestic market is also a must, and we have had an active campaign and a reasonable number of domestic visits to Dubrovnik lately. There is a stigma that Dubrovnik is expensive, and of course, we offer exclusive facilities, but Dubrovnik has an offer for everyone: from hostels and private accommodation to facilities in attractive and expensive positions, from exclusive restaurants to pleasant city cafes.
Dubrovnik follows the world tourist scene – new ways of communication, free Wi-Fi, new accommodation facilities, more diverse accommodation offer… New trends require last minute travel, longer staying in one destination, eco / green travel – in what percentage Dubrovnik follows these trends? Is there room for growth?
We are trying and we did improve over last years, but there is always place for growth. We are continuously developing new programs and projects. For example, one of new popular trends are digital nomads, we see a great potential in this sector. The COVID-19 pandemic has significantly affected tourism and tourism related economies, and Dubrovnik has felt significant consequences, especially financial. We lost 350 million Kunas till now, in total. At the same time, we have become aware of the fact how many people work from home today and how their numbers will only continue to grow over time. That is a certain number of people who can do their job from anywhere in the world. Due to this we recognized the possibility of expanding our offer to people who want to stay in a beautiful and comfortable environment, be on one sort of a holiday, and still do their jobs online.