'I'm the first Brit to drive across Croatia's Peljesac Bridge. The £467 million structure snakes above the Adriatic Sea, linking Komarna village and the Peljesac peninsula. A mile and a half long, the bridge is so lofty cruise ships can sweep underneath. Like Norman Foster's Millau Viaduct in France, it's topped by white cable pyramids that mirror the hills beyond. My rental car feels like it's on a rollercoaster through the clouds,' journalist Tristan Rutherford from The Times writs in his story about Pelješac, Pelješac Bridge opening and local experience…
Rutherford was a guest of the Croatian National Tourist Board, and his visit was organized by the Representation of the Croatian Tourist Board in London, the Tourist Board of Dubrovnik-Neretva County and the Dubrovnik Tourist Board.
Multiple award-winning journalist and long-time associate of the popular British magazine The Times visited the Dubrovnik-Neretva County, and the result of the trip was described in the report 'The ultimate Croatian roadtrip just got even easier', published on the occasion of the ceremonial opening of the Pelješac Bridge.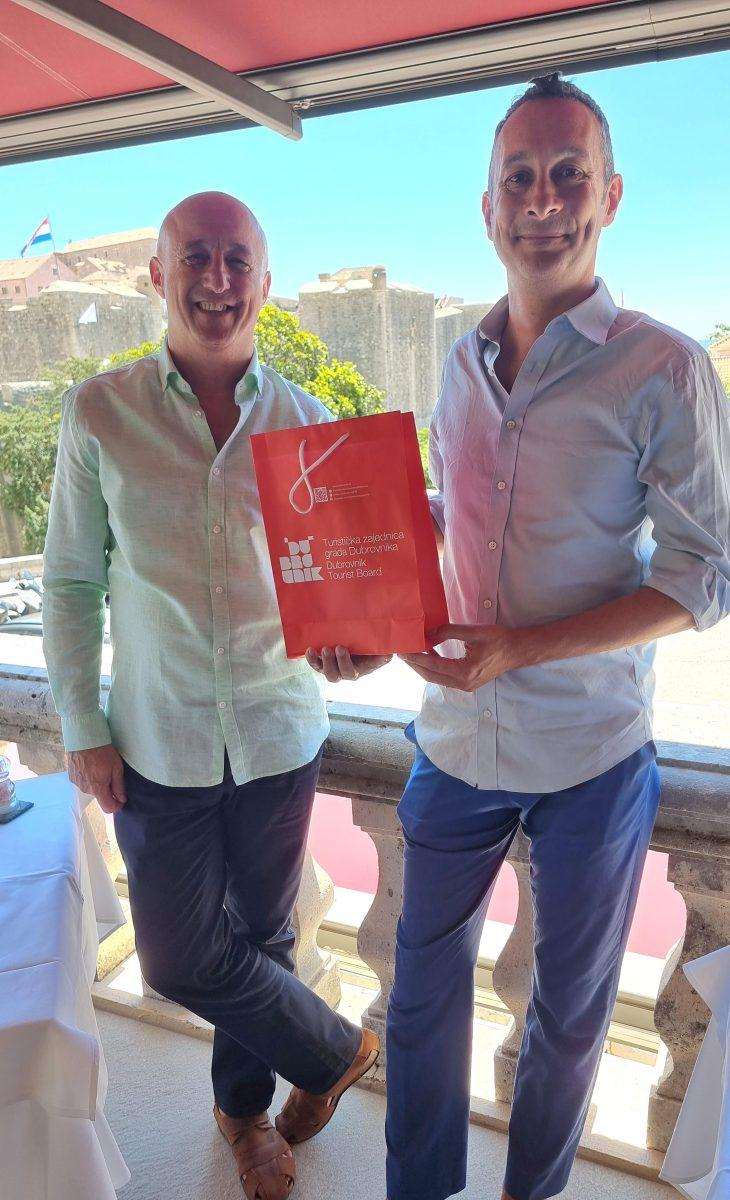 During his stay in Dubrovnik, the director of the Dubrovnik Tourist Board, Miroslav Drašković, spoke with the British journalist about the importance of the British market, which is traditionally our most important emission market, and the opening of the Pelješac Bridge. Dubrovnik and its surroundings, as continuously one of the most popular destinations for the British and an established tourist brand on the British market, are an ideal combination of cultural and historical heritage, natural beauty and food and wine offerings.
Tristan Rutherford highlighted and described numerous attractions and natural beauties of the coast of Dubrovnik-Neretva County. During his three-day stay in Dubrovnik, he got to know the cultural heritage of the city, visited all the most important sights and enjoyed the gastronomic offer in some of the best Dubrovnik restaurants. In addition to enjoying the beauty of the beaches and the food and wine offer, the journalist also highlighted Mali Ston, the islet of Vela Stupa, Orebić and, of course, Pelješac, along with the inevitable Pelješac Bridge, which left a special impression and sense of imposingness on the reporter, who emphasized its significance for the integrity of the Croatian territory , as well as its impact on the tourism of this region and the country as a whole.
The British market is the most important emitting market of Dubrovnik, whose tourists are traditionally at the top of the list of the most numerous tourists in Dubrovnik, and currently 4 600 of them are staying in the city.