Presidential apartments of Dubrovnik hotels, whose prices range from 1,000 to over 3,000 euro per day (during the summer season), are reserved for particular VIP guests. Many celebrities spend their holidays in one of these apartments that guarantee comfort, luxury and complete discretion to them. Take a look at what we have found in these glamorous 'rooms'.
Hilton Imperial
A luxuriously furnished presidential suite with a total area of 83 m2 is positioned on the top of the hotel building. It offers a lavishly appointed double bedroom, a spacious living room, office, dining room, kitchen and two bathrooms. With a stunning view, which guests can enjoy in while relaxing in the jacuzzi and a marble bathroom equipped with premium designer toiletries, this apartment deserves to be called 'a presidential suite.' The whole apartment is decorated in warm Mediterranean tones, with stylish furniture and works of Dubrovnik art. It has wireless internet, audio-visual equipment, mini bar and coffee machine, but also an Executive Lounge that provides food and beverage services at no additional charge for the customer, every day from 7 am to 11 pm.
Royal Princess Hotel
Presidential Suite Royal Princess Hotel has 200 m2. Private sauna, jacuzzi and designer furniture had made the magical combination of traditional and modern. Exclusively decorated living room, a spacious terrace overlooking the Adriatic Sea and a bedroom with the most comfortable king size bed are just a part of its offer. There is also a large bathroom that guarantees a unique experience. Royal Princess is located in one of the most beautiful parts of the city and its price ranges between 1000 to 3000 euros per day.
Hotel Valamar Dubrovnik
A presidential suite of Valamar Dubrovnik's luxurious two-storey apartment with total area of 143 m2 is located on the top floor of the hotel. It offers unforgettable views of the Sea and Elaphiti Islands to its guests. On the upper level, there is a spacious living room, dining room, kitchen equipped with modern technology and dishes, desk, and a toilet, and a balcony with deck chairs. On the upper floor, there are two spacious bedrooms with dressing rooms and bathrooms. It has a private balcony and terrace with jacuzzi. A special feature of the apartment is access to its Executive Spa zone, which provides the real harmony of pleasure over an area of 78 m2. This private spa area consists of the aroma sauna, Finnish sauna, massage room and relaxation, outdoor jacuzzi and a vitality bar. VIP amenities, robes and slippers, deluxe fruit basket, champagne and lavish flower arrangements are always being prepared for the guests of the Presidential Suite.
Price per night ranges from 2,000 euro onwards.
Valamar Dubrovnik President
Presidential Suite Valamar Dubrovnik President Hotel provides superior elegance and variety for guests who want to enjoy real luxury. This exclusive apartment hotel covers an area of 105 square meters and has a large terrace with jacuzzi and sun beds with panoramic views of the Sea and Elaphiti.
The apartment has a foyer, living room, bedroom with bathroom and a separate toilet. VIP amenities, robes and slippers, deluxe fruit basket, champagne and lavish flower arrangements for the guests of the Presidential Suite. Price per night in the presidential suite of the hotel Valamar Dubrovnik President in the season ranges from 3,000 euros onwards.
Dubrovnik Sun Gardens
Royal landscaping and stunning views are the main features of the Presidential Suite 'Revelin' located in Dubrovnik Sun Gardens. It is located at the very top of the hotel and spreads over 136 m2. It has an exclusively decorated bedroom, modern furnishings and a spacious living room, luxurious dining room, an elegant lounge with a meeting room, luxury en-suite bathrooms with exclusive cosmetics and spacious wardrobe. The guests of the apartments have first-class commodities such as access to the exclusive Club Lounge, personalized check – in and check – in the reception Club Floor with a breakfast in the Club Lounge or on the roof terrace of the hotel. As well as additional facilities that include a wine and canapé welcome, flowers, and fruit in the room, daily delivery of foreign newspapers and magazines on request and more. Revelin is equipped with a coffee maker, mini bar, satellite and pay TV, wireless internet access and a safe in the room. Price during the season reaches 2000 EUR per day.
Hotel Excelsior
Presidential Suite of Hotel Excelsior is located in Villa Odak. It offers sophisticated atmosphere, complete privacy, superior treatment, and a unique characteristic of the Presidential Suite at the Villa Odak. It offers memorable views of Dubrovnik from every corner of this luxury apartment as well. With a minimalist approach used natural materials and warm colors of stone, sand, and lavender that create a natural and unique artistic impression looking like a 'seagull wing'. The apartment is equipped with furniture from the late 19th and early 20th century. The area of 160 square meters consists of a hallway, living room, two bedrooms, two modern bathrooms with separate toilet and space for exercise. High-quality furniture that belongs to the period 'La Belle Epoque' is completed with artworks of renowned Croatian artists.
Dubrovnik Palace Hotel
Dubrovnik Palace Hotel has set aside a special VIP wing that houses a luxuriously furnished apartment Magnolia. Apartment Magnolia with minimalist style furnishing is the area of 220 square meters. It includes a hallway, living room with fireplace, bedroom, dressing room, business corner, two bathrooms with jacuzzi, a terrace, and a unique 'junior' suite which is connected with the presidential apartment. Private balcony with an exceptional view is the perfect place to relax on. Its interior is unique due to the use of organic materials which, by their composition and shape, fit perfectly with the natural Mediterranean surrounding. Specially designed furniture, unique details, and sculptures, tapestries and paintings of Mestrovic, Džamonja Jagoda Buić, Murtic and Pulitika form a beautiful luxurious ambiance. Dubrovnik Palace Hotel, except for the existing beach and pools has a private "VIP club beach 'designed for guests who want to enjoy complete privacy with superb service and staff that they can reach at any time.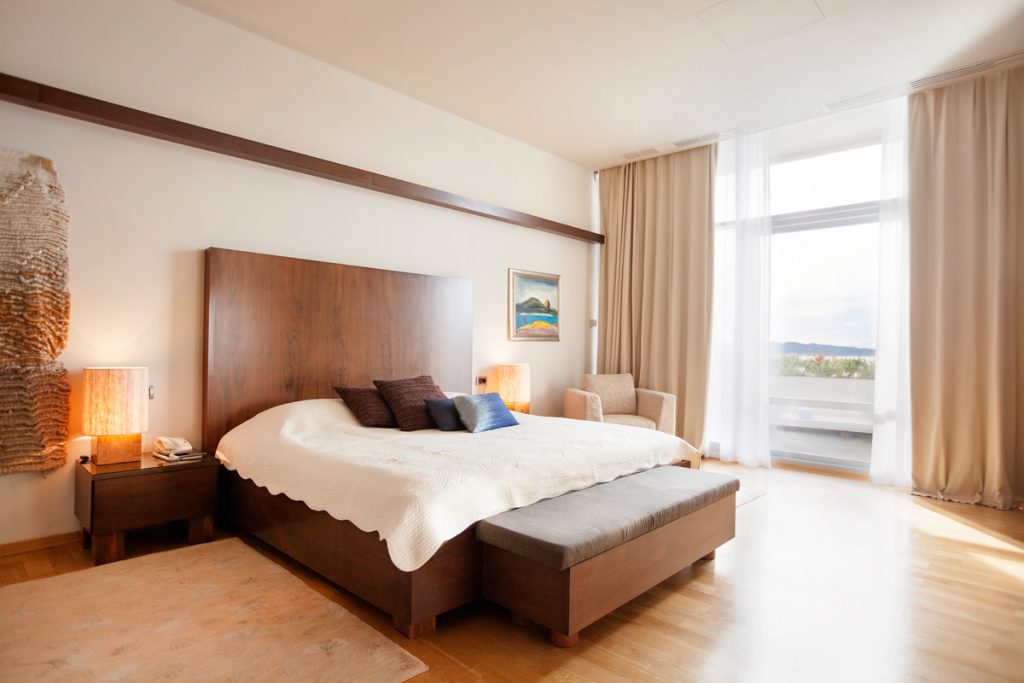 Hotel Bellevue
The presidential suite of the Hotel Bellevue is located on the fifth floor of the hotel. It includes the apartment 'Laurel' with two luxurious bedrooms. Laurel Presidential Suite has a spacious balcony with the view of the sandy beach and the Miramare Bay with a 30-meter-high cliff. The presidential suite 'Laurel', which exudes a seamless luxury, is colored with natural brown and beige. Equipped with a precious lacquered furniture, this apartment of about 100 square meters has two bathrooms, a bedroom, and a living room. The interior design of the rooms, as well as the entire hotel, is equipped with organic materials, which fits the Mediterranean atmosphere, ambiance, and art. The lithographs and pastels of two top Croatian artists – Fedor Dzamonja and Zeljko Senecic, are exhibited in these rooms.
Hotel Croatia
The Presidential Suite is located on the tenth floor of the hotel guaranteeing its guests complete privacy and exclusivity. Its area spreads over 120 square meters, and it has three lavishly decorated bedrooms with a double bed and a bathroom; a spacious lounge and dining room aa well as a kitchen. The particular value of the apartment is in its wide private terrace with a panoramic view of the sea and views of Dubrovnik.