Zelena menestra or green stew, is a traditional Dubrovnik dish that is mentioned in writings as far back as 1480.  Though many variations exist in all the regions of Dubrovnik-Neretva county, the dish is traced back to the Konavle area where each year a zelena menestra cooking competition is held as part of the Scents of Christmas manifestation is held with teams competing for the best interpretation.
Ingredients:
– 1 kg Smoked ham hock
– 0,50 kg Bacon (home-smoked)
– 0,60 kg Sausages (home-made)
– 0,80 kg Cabbage (green-raštanj)
– 0,50 kg Kale (verza)
– 0,65 kg Cabbage (white,head)
– 1 kg Potatoes
– 0,15 Olive oil (olive)  l
– 0,02 kg Salt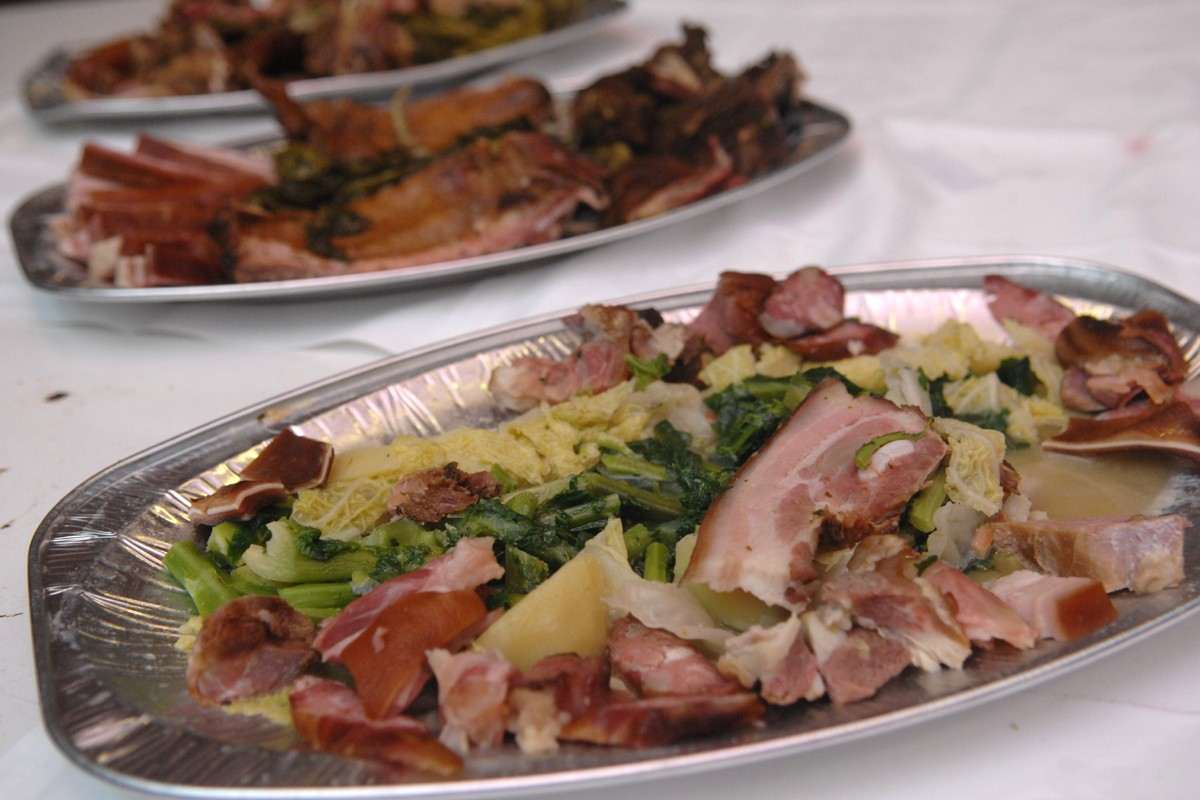 Preparation:
Wash the ham hock in warm water and scrape if needed (smoked surface). Put in lukewarm water and cook. After the meat is half cooked, add the sausages and bacon. The softer pieces of cooked meat are removed so they don't fall apart.
Wash the green cabbage (raštanj). Cut the washed kale and head of white cabbage in to thick slabs. Each vegetable is blanched for a short time, removed and drained. The potatoes are cleaned, washed, cut in four and cooked in the strained stock from the cooked meat. Salt to taste. When the stock boils, add olive oil, and then add all the blanched vegetables. Be careful not to overcook the vegetables.
Remove the cooked meat from the bones, and cut into serving pieces. Place the cut meat over the vegetables and cook all together for a short while on low heat. Remove from heat and keep covered for one half hour.
Pile up the vegetables in a serving dish, with all the meat. Each guest should be served the vegetables together with a portion of each variety of meat. Stock is poured over the dish prior to serving.
Note:
You can use chorizo sausage in place of Croatian home made sauasage which may be hard to come by abroad. Various kinds of smoked pork can be used to prepare this dish, i.e. neck, rib, shoulder. In the original recipe, the vegetables do not have to be blanched, but some of the bitterness found in the vegetables disappears with blanching.
The dish must be prepared rapidly and on high heat, so as to preserve the vegetables natural color.