Dusan 'Dusko' Popov was a double agent working for MI5 during World War II under the code name 'Tricycle' and the Abwehr under the code name 'Ivan'.
Popov was born 10 July 1912 in Titel, Austro-Hungary, to a wealthy family. He had an older brother, Ivo (Ivan) – also a double agent, professionally trained as a physician, during World War II – and a younger brother, Vladan.
The Popov family moved to Dubrovnik when Dusko was very young. He spoke fluent German and had many highly placed German friends, but secretly despised the Nazis after earlier unpleasant brushes with them during his university years in Freiburg. Popov had earned a Ph.D. in Law there, and then returned to Dubrovnik to practice briefly as an attorney.
Clement Hope, passport control officer at the British legation in Yugoslavia enrolled Popov as a double agent with the codename Scoot (he was later known to his handler as Tricycle), and advised him to co-operate with Jebsen. Once accepted as a double agent, Popov moved to London. His international business activities in an import-export business provided cover for visits to neutral Portugal; its capital, Lisbon, was linked to the UK by a weekly civilian air service for most of the war.
Popov used his cover position to report periodically to his Abwehr handlers in Portugal. Popov fed enough MI6-approved information to the Germans to keep them happy and unaware of his actions, and was well-paid for his services. The assignments given to him were of great value to the British in assessing enemy plans and thinking. Popov was famous for his playboy lifestyle, while carrying out perilous wartime missions for the British.
In 1941, he was dispatched to the United States by the Abwehr to establish a new German network.[8] He was given ample funds and an intelligence questionnaire. Of the three typewritten pages of the questionnaire, one entire page was devoted to highly detailed questions about US defences at Pearl Harbor on the Hawaiian island of Oahu. He made contact with the FBI and explained what he had been asked to do. During a televised interview, Dusko Popov related having informed the FBI on 12 August 1941, of the impending attack on Pearl Harbor. For whatever reason, either the FBI chief J. Edgar Hoover did not report this fact to his superiors, or they, for reasons of their own, took no action in regard to this apparent German interest in Pearl Harbor. Popov has said Hoover was quite suspicious and distrustful of him and, according to author William 'Mole' Wood, when Hoover discovered Popov had taken a woman from New York to Florida, he threatened to have him arrested under the Mann Act if he did not leave the US immediately.
In 1944, Popov became a key part of the Operation Fortitude deception campaign. He was noted as a ladies' man – while in the US. He lived an extravagant lifestyle and had an affair with the well-known French actress Simone Simon.He published his memoirs 'Spy, Counterspy' in 1974. He has been cited as among Ian Fleming's models for James Bond. Popov died in 1981, aged 69. He was survived by his wife and three sons.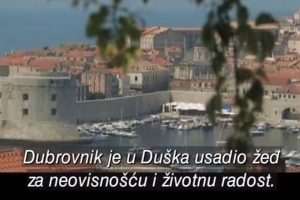 Source: Wikipedia